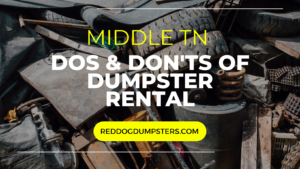 Renting a dumpster for the first time can be an overwhelming experience. There are many factors to consider, such as the size of the dumpster, what types of materials can be disposed of, and how to properly load the dumpster. In this blog post, we'll go over the do's and don'ts of renting a dumpster to help you make the most of your rental experience.
Do's for Dumpster Rental:
Do Determine the Right Size Dumpster for Your Needs
One of the most important things to consider when renting a dumpster is the size. You want to make sure you get a dumpster that is big enough to accommodate all of your waste, but not so big that you end up paying for space you don't need. At Red Dog Dumpsters, we offer 10 and 15-yard dumpsters, and our team can help you determine which size is best for your project.
Do Consider What Can and Cannot Be Put in the Dumpster
It's important to know what types of materials can and cannot be put in the dumpster. Some common materials that can be put in a dumpster include construction debris, furniture, and household junk. However, there are some materials that are prohibited, such as hazardous waste and electronics. Make sure you check with your dumpster rental company for a complete list of what can and cannot be put in the dumpster.
Do Prepare Your Property for the Dumpster Delivery
Before your dumpster is delivered, make sure your property is ready to receive it. This includes clearing the area where the dumpster will be placed and ensuring there is enough space for the delivery truck to maneuver. Additionally, if you plan on placing the dumpster on your driveway, you may want to consider putting down plywood to protect your driveway from damage.
Do Properly Load the Dumpster
Properly loading the dumpster is key to making the most of your rental. Start by placing heavy items at the bottom of the dumpster, followed by lighter items on top. This will help distribute the weight evenly and prevent the dumpster from becoming too top-heavy. Additionally, try to break down larger items as much as possible to maximize space.
Do Check for Local Regulations
Before renting a dumpster, make sure you check for any local regulations regarding dumpster placement and use. Some municipalities may require a permit for placing a dumpster on public property, or they may have restrictions on when and where dumpsters can be placed.
Don'ts for Dumpster Rental:
Don't Overfill the Dumpster
Overfilling the dumpster can lead to extra fees or even damage to the dumpster itself. Make sure you only fill the dumpster to the top of the sides and not above the rim. Additionally, be mindful of weight restrictions and avoid overloading the dumpster with heavy materials.
Don't Put Prohibited Items in the Dumpster
As mentioned earlier, there are certain items that cannot be put in a dumpster. These include hazardous waste, electronics, and other items that require special disposal. If you're unsure about what can and cannot be put in the dumpster, contact your rental company for guidance.
Don't Block Access to the Dumpster
Make sure the dumpster is easily accessible for both you and the rental company. Avoid parking cars or other items in front of the dumpster, and make sure the area around the dumpster is clear of debris and obstacles.
Don't Wait Until the Last Minute to Schedule Pickup
When you're finished with your rental, make sure to schedule pickup in advance. Waiting until the last minute can lead to delays and extra fees. At Red Dog Dumpsters, we offer flexible pickup times and can work with you to schedule a pickup time that works best for you.
Don't Assume All Dumpster Rental Companies Are the Same
Not all dumpster rental companies are the same, so it's important to do your research before choosing a company. Look for a company with a good reputation, transparent pricing, and excellent customer service. At Red Dog Dumpsters, we're proud to offer top-rated dumpster rental services in Nashville and the surrounding areas.
First Timers: Contact Red Dog Dumpsters Now
Renting a dumpster for the first time can be a daunting task, but by following these do's and don'ts, you can make the most of your rental experience. At Red Dog Dumpsters, we're committed to providing our customers with high-quality dumpster rentals and exceptional customer service. If you're in need of a dumpster rental for your project, contact us today at 615-933-3300 to learn more about our services and get a free quote. Our team is standing by to assist you with all your waste management needs.