Dumpster Rental in Brentwood TN: Free Delivery
We offer dumpster rentals with free delivery in Brentwood TN. Call before noon for guaranteed same-day service.
There are times in life when you just need to get rid of a lot of trash. You're cleaning your house. You're renovating your business. You're moving to a smaller home. You're downsizing your offices. You've inherited a property.
Given all the waste such projects can generate, a temporary dumpster could definitely come in handy. Just toss trash into that large receptacle and let the sanitation pros at Red Dog Dumpsters haul it away.
The Benefits
To start with, because a dumpster rental saves you many trips to the local dump, your project will be faster and cheaper to complete. And unlike junk hauling services, you have several days to get rid of all your junk.
Also, with a temporary dumpster, you don't have debris and trash bags strewn all over your home or workplace for days on end. Those things become obstacles and hazards for everyone.
Moreover, without a dumpster rental, there might be confusion about which pieces of garbage go where. And some people might even keep items they don't want simply because all the trash cans are full.
Not to mention, after you drive to the dump, your trash bags could leave lingering odors inside your car. They might even leak, staining your trunk or back seat.
Worst of all, transporting large quantities of trash can sometimes be dangerous. It's easy for people to grab a bag, touch a sharp item, and cut their hand. Or your employees or family members could get exposed to disgusting materials.
Plus, trash bags can sometimes be heavier than they look. It's possible to hurt yourself lifting and carrying them away.
Temporary Dumpsters Combine Flexibility and Convenience
We offer 2 options depending on your needs: a 10-yard bin or a 12-yard bin. For commercial needs, we have plenty of containers in our inventory and ready to equip your job site.
All of our dumpsters are rented for 7 days and in Brentwood, we offer free delivery and pickup.
Should you need any advice about what type of dumpster to order or how long to rent it for, we'd be happy to provide our expert analysis.
For sure, renovations, remodelings, construction projects, major cleanings, and moving days can be tricky. But, with a rented dumpster, you'll have less mess and less stress. Thanks to your temporary dumpster, your trash won't make you feel down in the dumps.
7 Day Rental Period NO WAITING
12′ Length x 8′ Wide x 42″ Tall
Includes Delivery and Pickup within Service Area
Low Sides for Easy Loading
Designed to fit in small spaces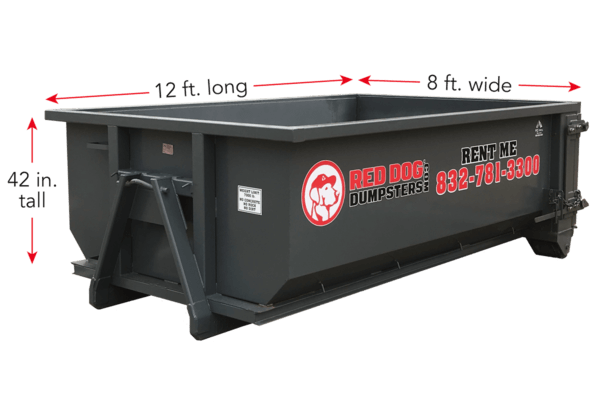 7 Day Rental Period NO WAITING
12′ Length x 8′ Wide x 72″ Tall
Includes Delivery and Pickup within Service Area
Rear barn doors for Easy Loading
Designed to fit in small spaces