Dumpster Rental in Franklin TN: Free Delivery
If you are undertaking a large home or office renovation or demolition in Franklin TN, then you may be looking to rent a dumpster. Dumpster rentals provide an easy and efficient way to dispose of waste during construction projects. They save you time and money by hauling away the debris for you so that you can focus on the task at hand. 
Common Uses for Temporary Dumpsters
There are many reasons to rent a temporary dumpster. Here are a few of the most common reasons and why they're popular in Franklin.
Commercial Renovation (small and large)

New Construction

Professional Home Addition

DIY Home Renovation

Estate Cleanup

Junk Removal

Spring Cleaning (any time of year!)

Inherited Property
3 Benefits Of Dumpster Rentals
Ease and Convenience 
The main appeal for using a dumpster rental service is the ease and convenience it provides. Once you have filled up the dumpster with all the debris from your project, all you have to do is call us and we will come to pick it up and dispose of it for you. This saves you a lot of time and energy from having to haul away the waste yourself. And let's be honest, who wants to deal with that anyway? 
Less Mess, More Space 
Another benefit is that the dumpster declutters your worksite quickly. When renovating or demolishing a property, there is bound to be a lot of debris left behind. By renting a dumpster, you can tidy up the area quickly so that you can get on with your project without having to trip over piles of rubble everywhere. This also helps create a safer work environment for you, your workers, and your family.
Affordability 
Many people think that renting a dumpster is going to be expensive but that is not always the case. We offer multiple options to fit your budget and needs. In fact, when you factor in all the time and effort it would take for you to haul away all the junk yourself, renting a dumpster actually ends up being quite affordable in the long run.
Residential Dumpsters
Many homeowners don't realize that they can get a dumpster delivered to their home and have it picked up after they're done with it. Our dumpsters are designed to fit in small places, making them a great fit for residential use.
Commercial Dumpsters
When looking for a solution to get rid of your business waste, renting a commercial dumpster is a great way to get started. At Red Dog Dumpsters, we provide containers tailored to fit any business and their amount of waste at an affordable price.
We have 10-yard and 15-yard dumpsters ready to be delivered. Whichever size you choose, we offer 7 days up to a monthly rental period.
How It Works
Simply select the dumpster size that's right for you and purchase your rental online. We offer 7-day and 30-day rental periods.
Not sure which dumpster is right for you? Call or email us and we'll help you select the appropriate size for your needs.
Start Now
To get started, click here to view sizes and prices or simply select a dumpster below.
There are many benefits of using a dumpster rental service for your construction project including ease, convenience, affordability, and decluttering your worksite or home quickly. So if you are undertaking a large renovation or demolition project, then let us help make your life easier with Red Dog Dumpsters.
7 Day Rental Period NO WAITING
12′ Length x 8′ Wide x 42″ Tall
Includes Delivery and Pickup within Service Area
Low Sides for Easy Loading
Designed to fit in small spaces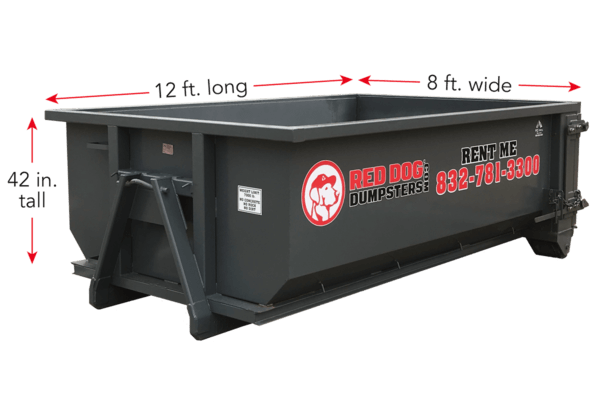 7 Day Rental Period NO WAITING
12′ Length x 8′ Wide x 72″ Tall
Includes Delivery and Pickup within Service Area
Rear barn doors for Easy Loading
Designed to fit in small spaces