Dumpster Rentals in Spring Hill, TN: Free Delivery
We offer dumpster rentals in Spring Hill with free delivery within our service area. Call before noon for guaranteed same-day service.
Dumpsters are expensive to buy, so dumpster rental makes sense. If you're going to be tossing lots of junk, such as during a remodel or a demolition, then we can provide you with the right dumpster for the job. Efficiency and ease of transaction, not to mention use, make renting a temporary dumpster a great idea. And, the best part is, once the dumpster's full, we'll schlep it away for you!
Temporary Dumpsters: What Are Some Uses?
This is the kind of question that has myriad answers. Some reasons to rent a dumpster are more common than others, so here's a list for you, folks of Spring Hill:
1. Renovating your business
2. Adding new rooms to an existing structure
3. Building new structures
4. Home renovations
5. Doing "spring cleaning" any time of year
6. Estate Sales
Three Reasons Dumpster Rentals Make Sense
Simplicity
It really is quite simple. Fill it. Call us. Watch us take the stuff away. Not only does this save you a great deal of time, but it also saves you money because you don't have to pay an entire crew for multiple hours. To paraphrase a famous slogan, "Just fill it, and forget it."
Neat and Spacious
You can fit a near mountain of stuff inside a temporary dumpster. This lets you keep things tidy because all the mess goes into the dumpster. It's safer than not having a dumpster, too, because no one will be falling over debris scattered about. And, if you don't have to think about all that trash, then you can devote your time and energy to more important topics.
Cost-Effectiveness
The question we hear most often is, "How much does it cost to rent one of these dumpsters?" The short answer it, "It depends." We provide you with an array of dumpsters from which to choose. We'll discuss your needs and come to a conclusion together about which dumpster is best for your current situation and budget. Remember, the time you save in not having to schlep 30 truckloads of stuff away by yourself could be worth the cost by itself.
Residential Dumpsters
As spacious as our dumpsters are, they're made to fit in the spaces on residential lots. That way, they're a terrific option for residential use. A lot of folks don't realize that dumpster service means, "We drop them off, and we pick them up."
Commercial Dumpsters
In much the same way as we provide dumpsters to fit homeowners' needs, we also provide plenty of inventory for businesses. No matter how much waste you have, we've got dumpsters for you. Our idea is to provide dumpsters for businesses affordably, simply, and quickly. Keep your commercial space clean and safe with a temporary dumpster.
How It Works
Just pick the right size: 10-yard or 15-yard. You can rent a dumpster online using the options on this site. If you're not sure which dumpster is best for your job, then just call or email us. We'd be honored to answer your questions.
Start Now
Click here to get started.
Dumpster rental with Red Dog Dumpsters makes good sense. The dumpsters are affordable, easy-to-use, and convenient. Whisk away the clutter from your big project.
7 Day Rental Period NO WAITING
12′ Length x 8′ Wide x 42″ Tall
Includes Delivery and Pickup within Service Area
Low Sides for Easy Loading
Designed to fit in small spaces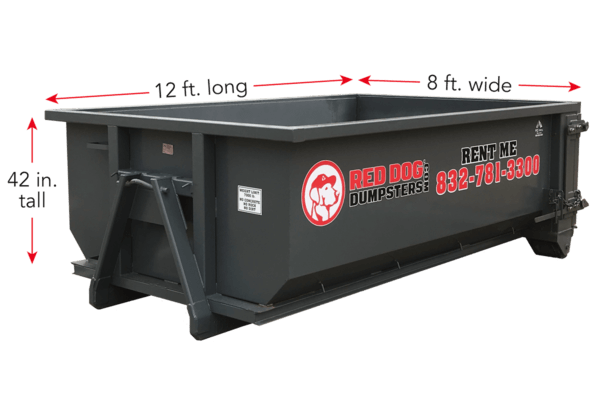 7 Day Rental Period NO WAITING
12′ Length x 8′ Wide x 72″ Tall
Includes Delivery and Pickup within Service Area
Rear barn doors for Easy Loading
Designed to fit in small spaces