Dumpster Rental in Smyrna TN: Free Delivery
We offer dumpster rentals with free delivery in Smyrna TN. Call before noon for guaranteed same-day service.
Renting a dumpster can be an easy and effective way to keep debris from rolling or flying around a job site. By keeping scrap metal, appliances and other items in one place, you can complete a renovation or clean out your Smyrna, TN home without turning your property into an eyesore.
Why You Might Want to Rent a Dumpster
There are many reasons why you may want to have a dumpster outside of your commercial or residential property. For instance, if you are renovating an office building, you will likely remove a significant amount of material that will need to be hauled off in a timely and ecofriendly manner. The ability to put discarded material in a specific location means that you can keep entrances and pathways near the building clear for customers or others who use them.
An inherited home or commercial property may be full of junk that you don't want or need. Instead of trying to donate or sell it, you can simply put it all in a dumpster and have it hauled away. This may be an ideal way to clean out your home prior to showing it to potential buyers or prior to a renovation.
The Potential Benefits of a Temporary Dumpster
Renting a dumpster can be an affordable and convenient way to store items that may present a health or safety hazard if left unattended on your lawn or by the curb. For instance, if you were renovating your bathroom, you may need to remove a toilet that still has water in it that shouldn't be touched. You may also have an old tub that has jagged edges or pieces of a wall that are covered with potentially toxic paint.
Keeping items in a dumpster may also prevent any chemicals or other contaminants from leaking into the grass or otherwise creating unintended environmental hazards. In addition, throwing items into a dumpster reduces the risk that someone will slip, trip or fall over them while working on your property.
How the Dumpster Rental Process Works
The process of booking a dumpster rental is fairly straightforward. The first step is to peruse our product listings and choose the dumpster that meets your size, price and other requirements. Then, you choose whether you would like to keep it for a week or for the entire month. Finally, you confirm your booking and wait for the order to be delivered to your location. When you are done, we can pick up the dumpster to make your project even easier to complete.
7 Day Rental Period NO WAITING
12′ Length x 8′ Wide x 42″ Tall
Includes Delivery and Pickup within Service Area
Low Sides for Easy Loading
Designed to fit in small spaces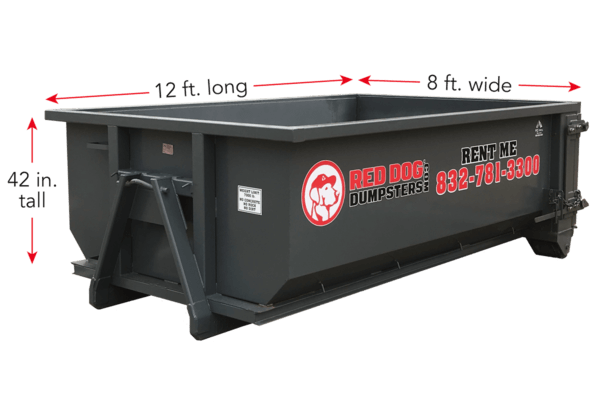 7 Day Rental Period NO WAITING
12′ Length x 8′ Wide x 72″ Tall
Includes Delivery and Pickup within Service Area
Rear barn doors for Easy Loading
Designed to fit in small spaces