Rent a Dumpster in Hendersonville, Tennessee
We offer dumpster rentals with free delivery in Hendersonville TN. Call before noon for guaranteed same day delivery.
For construction work, demolition, and major cleaning or decluttering projects, we offer dumpster rentals with free deliveries and removals. With our commercial and residential services, you benefit from a boost in efficiency, and you save considerable time and money.
When Do You Need to Rent a Dumpster?
Sometimes, ordinary trash cans aren't going to be enough. You need containers with greater size and sturdiness.
We offer dumpster rentals in different sizes for both commercial and residential use. These include dumpsters that can fit into small spaces, making them suitable for a home or an office.
The following are the main reasons residents and businesses rent a dumpster:
Construction and Renovation
Maybe you're remodeling your kitchen or building a home addition. Or maybe your project is commercial, and you're renovating an office space or redoing the interior of a restaurant. A temporary dumpster is indispensable for any construction, remodeling, or demolition project.
Major Cleaning
Cleaning out an attic, garage, basement, or entire home leads to an accumulation of trash and unwanted items. Whether you're diving into spring cleaning or working on an estate cleanup, you benefit from reliable dumpster services. Dumpsters are also handy for businesses and nonprofits that need to get rid of large amounts of junk.
Important Events
A temporary dumpster makes it easier to tidy up after gala evenings, anniversary parties, birthday celebrations, work dinners, and other large gatherings.
Disaster Cleanups
Maybe a storm has struck, and you've suffered from flooding or other damage. As you clean up debris and remove trash, renting a dumpster becomes part of the restoration process for your property.
What Are the Benefits of a Dumpster Rental?
Enhanced Safety
When you have debris, trash, or junk lying around, your property or work site has more hazards. You're at a greater risk of tripping over something or injuring yourself in other ways. A dumpster rental helps minimize safety issues.
Greater Efficiency and Convenience
When you rent a dumpster, you have a designated spot for your trash, so your space is less cluttered. You can move around and get your job done more easily. Our dumpsters are also simple to load.
Once you fill your dumpster, we remove it for you and dispose of everything in it. This outstanding service saves you a significant amount of time, reduces your physical exertion, and helps you work more quickly.
Cost Savings
We give you affordable rental options, including seven-day and 30-day periods. When you factor in the time and effort saved by renting a dumpster and having us dispose of its contents, you'll find that it's a cost-effective choice.
Contact Red Dog Dumpsters
If your home or business is located in or around Hendersonville, turn to us for a high-quality temporary dumpster. When you contact us with the details of your project, we can give you advice about the best dumpster to choose. You can reach us at 615-933-3300 or through our site.
7 Day Rental Period NO WAITING
12′ Length x 8′ Wide x 42″ Tall
Includes Delivery and Pickup within Service Area
Low Sides for Easy Loading
Designed to fit in small spaces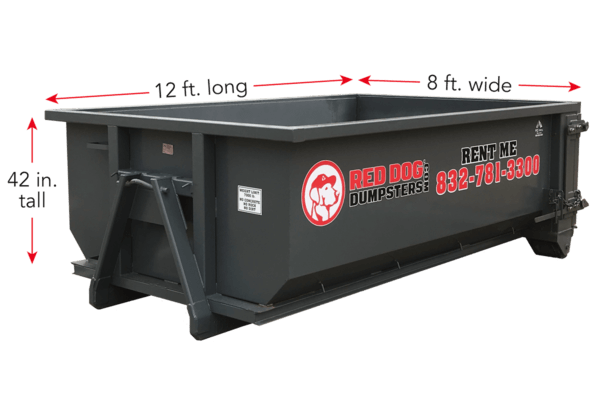 7 Day Rental Period NO WAITING
12′ Length x 8′ Wide x 72″ Tall
Includes Delivery and Pickup within Service Area
Rear barn doors for Easy Loading
Designed to fit in small spaces