Looking for a way to give back to your community? Organizing a neighborhood cleanup is a great way to make your neighborhood a better place to live. For a community cleanup to be successful, it must be well-planned. From picking the right project to recruiting enough volunteers.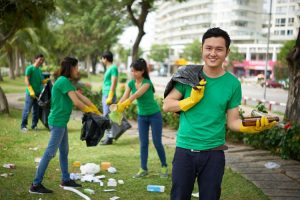 Tips for planning a community cleanup
1. Pick the Right Project for your Community
Chose the area of focus for your neighborhood cleanup carefully. The right project is one that fixes an existing problem and inspires others to get involved.
Community cleanup projects can come in many forms:
Trash and litter collection
Beautification projects
Flower planting incentives
Beach cleanups
River cleanups
Pick a project that isn't being address by other local efforts. Is your beach dirty? Is garbage in the river endangering local animals? Is your block looking rough? Is your local park in need of new plants and a fresh coat of paint on the playground?
2. Make a Detailed Event Plan
Once you've chosen the Community Clean up plan of action, it's important to make a specific plan for the event.
Your plan should include:
Date and possible rain date
Meeting location with access to restrooms for volunteers
Number of volunteers needed and initiatives to recruit them
Outline all of the work
List of supplies need
List of required permits or licenses needed.
Assign tasks
Clean up
3. Choose an Enthusiastic Leader
Your neighborhood clean needs a project coordinator to be the go-to-person for all planning needs (maybe that's you!).
4. Recruit Volunteers Early
Cleaning up a community is reliant on volunteers. Begin recruiting efforts a month or more before the event to make sure you have enough support.
Use different methods to reach a wide audience:
Tell neighbors, friends, community members, local businesses, churches, and other organizations about your event.
Create a flyer highlighting the details of the event and hang them everywhere
Promote the event on social media
Ask neighborhood organizations to promote the event in their newsletters
Add the event to online community event calendars
Get Supplies Donated
Unless you have a budget for your event, the most economical approach is to request supply donations for your neighborhood cleanup. Make a list of your needs as well as the estimated costs and ask local businesses to donate the funds or the items themselves. (Be sure to tell the local business you will post about their donation online, on social media… it might help 😉
You may be able to request supplies from the city government. Reach out early to find out if they have any programs your event qualifies for or if they can connect you to any other organizations.
What could your event be? How can you make your neighborhood more enjoyable?
Red Dog Dumpsters supports the communites of Houston, Nashville, and Birmingham