Are you thinking about renting a dumpster, but unsure how to proceed? A dumpster delivery to your home or office is a perfect way to handle waste from a clean-out, a renovation, an office move, or a building project.
Instead of transporting your trash to the nearest garbage dump or making piles for donations or garage sales, you have a dumpster conveniently located in your driveway or parking lot. Once the bin is full, the dumpster rental company will come and pick it up. The entire process is incredibly simple!
Easiest Dumpster Rental in Nashville, TN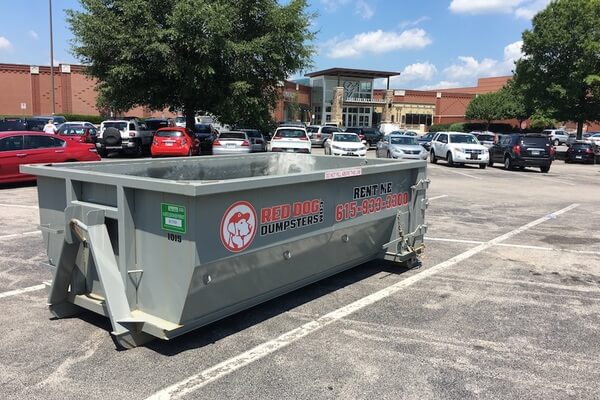 Step One: Make the necessary arrangements
The first thing you need to do is call Red Dog Dumpsters or order right here on our website.
The online process is so easy, that you won't believe it, and you will receive emails when the dumpster has been dispatched when it has been delivered, and when it has been picked up.
Step Two: Be ready for the delivery
We pride ourselves on offering same-day delivery if you call before noon. Our drivers are always courteous and our dumpsters are clean.
You'll want to pick an area that is convenient for you to load, you don't want to have to carry heavy pieces of furniture any further than necessary. The Red Dog Dumpsters are a perfect size for a driveway and a parking spot as they are 8 feet wide and 12 feet long.
Step Three: Fill the dumpster
Once we have delivered your Red Dog Dumpster, the rest is up to you. You have either 10 or 15 cubic yards to fill, so fill away. Just be careful, we need to be able to tarp the dumpster as we travel to the dump. We also do not take concrete, rock, dirt, tires, batteries, or wet paint. For a complete list of what is not accepted at the dump, please see the FAQ section of our website.
Step Four: Be ready at pickup time
As a reminder, our awesome dispatchers will text you the day before your dumpster is scheduled to be picked up so you will know we are coming and can have the area cleared for the driver to have easy access. If you aren't ready, just reply to the text that you need it longer at $7.00/day, and we will change your pickup date. It's that easy!
Easy peasy right? So, what are you waiting for? Call us today or book online. Heck, you can even text your order to us!