Lebanon Dumpster Rentals
Guaranteed same-day delivery, flat-rate prices, & no delivery charge*
Need to make sure you don't have a mess around your work site?
With Red Dog Dumpsters, you can keep any job site clean and orderly. Our dumpster rentals are perfect for home construction or renovations, spring cleaning efforts, and commercial projects. We'll deliver the dumpster on time and pick it up when you're ready. We have different size options depending on the needs of your project.
With Red Dog Dumpsters, you won't have to deal with bags bursting open from being overloaded or making dozens of trips back and forth from local landfills. Plus, there's no need to sacrifice safety when using our durable and secure containers – we take care of all that for you!
Take advantage today by booking online or calling our office for more information.
5 Reasons to Rent a Dumpster for Your Next Project
Whether you're doing some home renovations or tackling a large-scale construction project, renting a dumpster can provide an efficient and cost-effective solution for disposing of debris. Here are five reasons why it pays to rent a dumpster for your next project.
Convenience
Renting a dumpster makes it easy to keep your work area organized and clutter-free. Instead of having to make multiple trips back and forth to the landfill, you can simply toss all your debris into one central container. When it comes time to take the dumpster away, all you have to do is call the rental company, who will take care of the rest.
Cost Savings
If you're planning on taking your debris directly to the landfill yourself, you'll be required to pay disposal fees for each trip. Renting a dumpster eliminates this additional expense by allowing you to dispose of all your debris in one go. Plus, many companies offer discounts if you need the dumpster for an extended period of time – meaning even more savings for you!
Safety
Having a large pile of debris lying around can be hazardous not only for workers, but also passersby who may not be aware that they're in danger due to poor visibility. A rented dumpster provides an enclosed space where all waste materials can be stored safely and out of sight until they're ready to be disposed of properly.
Environmental Friendliness
Most people don't realize that disposing of construction waste improperly can damage both local ecosystems as well as public health. Renting a dumpster ensures that all materials are transported and disposed of legally and responsibly – protecting our environment from further harm in the process.
Peace Of Mind
Knowing that everything is being disposed of properly helps alleviate any worries or concerns about potential liability issues down the road – giving you peace of mind when it comes time for clean up after your project is complete.
Conclusion 
Renting a dumpster is an easy way to keep your work area tidy while ensuring that all waste materials are disposed off responsibly – saving time, money and peace of mind in the process! Investing in a rented dumpster may seem like an added expense at first glance but it is essential if you want things done right without any hassles or complications down the line. For homeowners and contractors alike, renting a dumpster should always be part of their overall plan before starting any type of major renovation or construction project!
*Same-day delivery guarantee is for orders placed before noon. Free delivery is available for most of our service area in the Greater Nashville market. Type in your zip code at checkout to confirm free delivery to your site address.
7 Day Rental Period NO WAITING
12′ Length x 8′ Wide x 42″ Tall
Includes Delivery and Pickup within Service Area
Low Sides for Easy Loading
Designed to fit in small spaces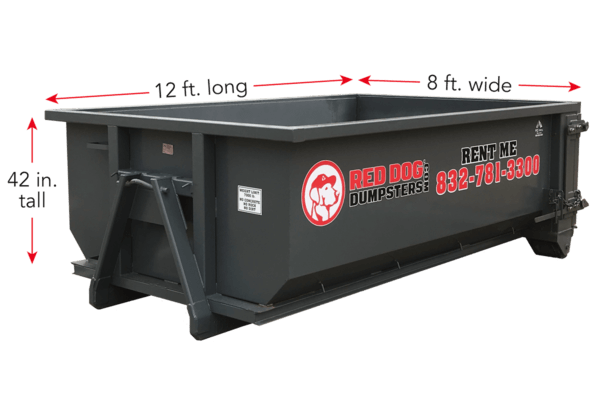 7 Day Rental Period NO WAITING
12′ Length x 8′ Wide x 72″ Tall
Includes Delivery and Pickup within Service Area
Rear barn doors for Easy Loading
Designed to fit in small spaces