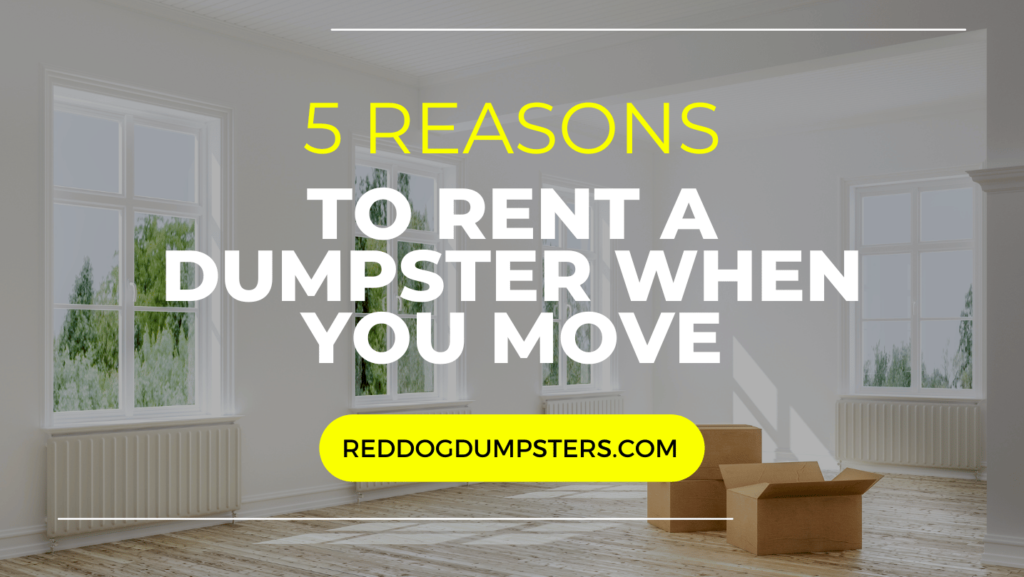 Moving and need to get rid of some junk?
Moving to a new home can be exciting, but it's also a lot of work. When you're getting ready to move, one of the biggest challenges is finding somewhere for all that stuff that needs to be tossed out! 
Red Dog Dumpsters makes this part easy. We deliver dumpsters straight to your door so you can fill them up with all the items you no longer need and have us take care of it from there.
Save time and energy with our simple solution – no more multiple trips in rental trucks or dealing with landfill fees. Plus, we offer different size dumpsters depending on how much debris you have, so you only pay for what fits your needs. That way, you'll save money and know everything will get taken care of without any hassle.
Get started quickly & easily – rent a dumpster online or call our office for more information.
So, Why Get A Dumpster When You Move?
Less Stuff Means Less Stress
One of the best ways to reduce moving stress is by reducing the amount of stuff you have to move in the first place. A great way to accomplish this is by cleaning out closets and cupboards, donating items you no longer need or want, and throwing away anything that has seen better days. Renting a dumpster gives you a place to put all those unwanted items so they don't end up cluttering up your new home. Plus, it makes it easier for friends who are helping you move since they won't have to worry about carrying heavy garbage bags around. 
Timely Disposal
Moving day will be here before you know it and time is always of the essence when it comes to getting things done quickly and efficiently. Renting a dumpster lets you get rid of items on your timeline rather than having to wait for trash day or try to fit multiple trips to the landfill into your busy schedule. What's more, if your move requires multiple trips between houses, having access to an easily accessible dumpster makes disposing of things much easier and faster than going back and forth between two houses with large amounts of trash bags in tow.
Stay Organized
Another benefit of using a dumpster for your move is that it helps keep things organized. Rather than having garbage bags and boxes scattered throughout your house (and possibly even stacked in piles outside), everything can be kept together in one location while you sort through what needs to go and what stays. This makes it much easier when it comes time to pack up everything else and load the truck because you know exactly where everything is located.
Safety First
Staying organized also reduces safety risks such as tripping hazards or even attracting unwanted pests. By renting a dumpster, you can keep everything neat and tidy while also keeping yourself safe from potential injuries or illnesses caused by poor sanitation conditions! Plus, if you're worried about damaging your property with all that heavy lifting involved in moving furniture, having a large bin right outside will give you peace of mind knowing that everything will be taken care of quickly and safely once it's thrown into the dumpster! 
Responsible Disposal
Finally, renting a dumpster assures you that all your unwanted or potentially hazardous items will be disposed of responsibly. Many rental companies are eco-friendly so they'll properly recycle any materials that can't be reused, such as cardboard boxes or plastic containers. Plus, they'll also handle any hazardous materials like paint cans or cleaning chemicals, so there's no risk of them ending up in landfills or waterways where they could potentially cause environmental damage.
Schedule Your Delivery
All in all, renting a dumpster is an easy way to make sure that your move goes as smoothly as possible—and keeps Mother Nature happy too! With its convenience, cost-efficiency, and eco-friendly approach, there's no reason not to take advantage of this great service when packing up for your next big move! So save yourself some stress and hassle – rent a dumpster today!