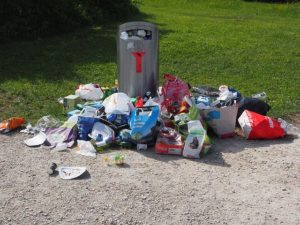 The average American family produces on average 25% more waste during the holiday season. That averages out to be 1 million additional tons of waste each week between Thanksgiving and Christmas. There are many steps that can be taken to prevent this type of waste. 
Donate

– Get ready for the holiday season by purging your home of unneeded stuff. If you do this before the holiday season, it will feel less chaotic. It will also allow you to donate many items instead of haphazardly throwing them away.

Start with closets.

This is where a lot of unused stuff tends to accumulate. If you have not used something in the last year, it is probably a good idea to get rid of the item. The best plan for purging is to take everything out of your closet so that you can see everything and begin organizing. Another place in the home that often functions as a closet is the garage. So be sure to use similar strategies here as well.

Next, head over to your

children's toys

. They are bound to receive a lot of new things during the holiday season. Use this as an opportunity to talk about those that are less fortunate that could benefit from these toys.

Pantries

often get extra crowded during the holidays. Holiday meals and parties cause people to buy items that they do not typically buy. Free up space by clearing out your pantry and donating to a local homeless shelter. 

Recycle

– If you do not normally recycle, this is a great time to start. You can start simple and pick a material that really fills up your trash can. A great place to start is with cardboard. There is a tremendous amount of cardboard that comes with the holidays. You can save a tremendous amount of space in your trash can by breaking down boxes and recycling them at the end of the season.

Reuse

– This is a great opportunity to reuse items during the gift-giving process. If you took the recycling advice from above, you should have a stash of boxes that can be reused for gift wrapping. As you receive gifts, try to keep items like gift bags, bows and even wrapping paper that is in good condition. This way you will have to buy fewer things, and less will be wasted during the holiday season. 

Strategic Gift Giving

– Choose gifts that are less likely to pollute landfills. Steer clear of items with excessive packaging. Consider giving experience-based gifts instead. This could be things like concert tickets or zoo memberships. Often these types of gifts are more memorable than material items. 

Plan as a Community – If holiday waste is a problem in your neighborhood, plan as a community. Homeowners associations often have policies about trash sitting on the curb for too long. Additionally, many garbage companies will not take bulky items that do not fit in their bins. HOAs already have the ability to budget for yearly expenses, so why not budget for a holiday dumpster? It can be placed in the neighborhood and filled periodically throughout the holiday season. It can reduce the unsightly look of trash on the curb.
Call Red Dog Dumpster today to schedule a dumpster for your community or for personal or company use.